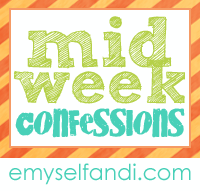 Linking up with E, Myself, and I for their Midweek Confessions post.
- Our tree and ornaments are all put away, but the bows and wrapping paper are still rocking their place on the floor
-I've enjoyed way too many "extra" sweet things the past two months. So hard to say no!!
-I've stayed up way later than I probably should have the past two nights. Sleep sounds so good, but time just flies!
-Andrew had cookies for breakfast. (on his own. thanks to me leaving my favorite cookies ever out- Milanos)
-My house... yeah well about that... someday I'll have the space to really organize & decorate and make a lovely home.(hard to do with a rental)
-I like shopping way too much.
-I like Target even more.
-I'm wearing lounge pants to work today. (forget the dressing up. It's rainy and icky!)
-I still haven't mailed out some of our Christmas presents. Oops.
So. What about you? Feel free to link up below.