I quietly squealed when I saw this linkup.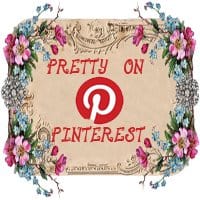 I
love
Pinterest. Love it. It's like Google Image Search but.. better. Times ten. Times one thousand actually. I am in love. It's really fabulous actually. And, I know. Like Facebook, it was one of those *things* I just avoided like the plague. After all, who needed to waste more time on yet *another* site. But... I decided to bite the bullet, and
just do it
. And it was love at first sight. And then I found out you can create
boards
. Specific boards. It's like having all these fabulous magazine photos right at your fingertips.. and instead of creating a huge mess clipping and cutting and saving pages of ideas in a binder, you can save it all on Pinterest. People have used it to plan a wedding. Or to plan house decor. Or find a recipe for dinner tonight. Or a great gift idea. Or a creative use for a cardboard box. (yes, really!) Curious? I know I was! If you are curious what it's all about you can follow me there

So, behold, all my favorite winter things found (or pinned) on Pinterest.
1. Marshmallow snowmen. We tried them last week and LOVED it. So much fun.
From
Cooking Unbound
2. Paper snowflake. Isn't that beautiful? Made with curled paper. I think it would be beautiful hung by pretty ribbon in the window, or smaller ones made as ornaments.
3. I want this light someday. Gorgeous.
4. Scarves. I love them. I found several I totally adore.
5. Winter style
6. Winter home decor
7. Penguins. I totally have a thing for penguins. I am not even sure why! But I do! Here are some really cute penguin-related things I found.
How cute is this costume?! Some year.. we'll do this with another little one!
Adorable penguin art project
Penguin pillow!
8. Cutest winter baby picture :)
9. And last but not least,one of the most amazing winter-related desserts
Peppermint mocha cupcakes
If you're not into the whole cupcake thing, then this drink might hit the spot
{Peppermint hot cocoa}