This year, Easter was pretty simple, but held lots of good memories too. I am loving feeling the freedom to just let the holidays be as simple or complex as they end up being. This year, we didn't even get eggs dyed (*Gasp!* I know!) But part of me can't help but shrug it off because there were plenty of other sweet moments in the weekend. The
only
thing I did ahead of time was getting the ham in the crockpot. No staying up late killing myself over nothing for this mama! I've discovered another secret that makes holiday prep easy peasy- shopping later in the evening. After 8:00, the stores are usually pretty dead. We went two days before Easter and I have to say, it's something I look forward to now. No crazy shoppers to deal with!
Something that has been fun is establishing our own traditions as a family. Last year we started making resurrection rolls for breakfast on Easter morning and they were an instant hit. They are a great (yummy!) way to illustrate the Easter story. This year was no different and Andrew polished off three (plus bacon and OJ!) Can you say growth spurt?! Slight change though? Josh accidentally got miniature marshmallows instead of regular but it is so much easier to seal the "tomb" with the mini ones. Who said change wasn't a good thing?! Last year we used regular rolls but this year we switched to crescent rolls. Great change if you ask me. They are flaky and amazing and 5x better! You can check out the idea on Pinterest here:
Resurrection Rolls
We decided to venture to an egg hunt at a park nearby. With beautiful 70 degree weather,
I could hardly turn down the chance. There were at least 200 people there though.
It was insane. But Andrew sure had fun! Lucky kid ended up right by someone dropping eggs.
He scored a bunch.
Total fail this year: I went shopping for Andrew's Easter basket with him.
Call it lack of planning, but whatever.
Of course, there was no sneaking what I got but that's ok.
He loved acting surprised Easter morning.
We enjoyed a wonderful Easter service at church as a family
and then lunch afterwards.
Only Easter decor I did this year-
The beautiful hyacinths my Dad brought sure brightened up the day!
Our menu was simple fare- ham with a brown sugar glaze, smashed potatoes,
rolls, jello salad, and an incredible peanut butter oreo dessert.
Yeah that.
Oh, you want the recipe? I shall share :)
Ingredients
21 chocolate cream-filled chocolate sandwich cookies, divided
2 tablespoons b
utter, softened
1 package (8 ounces) cream cheese, softened
1/2 cup peanut butter
1-1/2 cups confectioners' sugar, divided
1 carton (16 ounces) frozen whipped topping, thawed, divided
15 miniature peanut butter cups, chopped
1 cup cold milk
1 package (3.9 ounces) instant chocolate fudge pudding mix
Directions
Crush 16 cookies; toss with the butter.
Press into an ungreased 9-in. square dish; set aside.
In a large bowl, beat the cream cheese, peanut butter and 1 cup confectioners' sugar until smooth. Fold in half of the whipped topping. Spread over crust. Sprinkle with peanut butter cups.
In another large bowl, beat the milk, pudding mix and remaining confectioners' sugar on low speed for 2 minutes Let stand for 2 minutes or until soft-set.
Fold in remaining whipped topping.
Spread over peanut butter cups.
Crush remaining cookies; sprinkle over the top.
Cover and chill in the freezer
for at least 3 hours.
A few more pics from Easter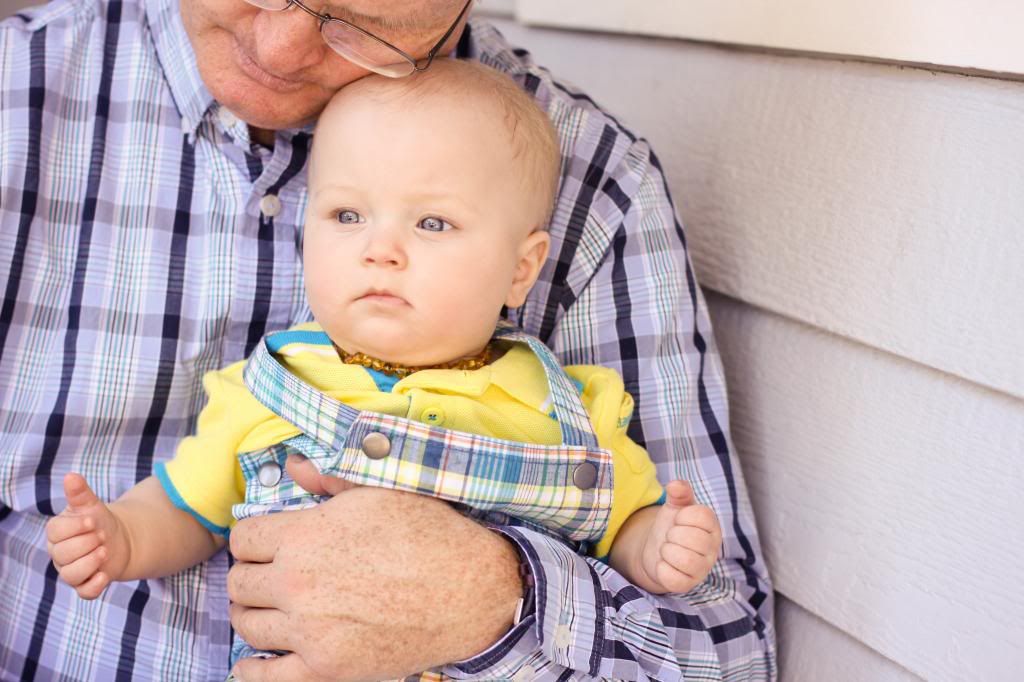 This one of Adrian and my Dad... Oh my!
This next set of photos is going on our wall!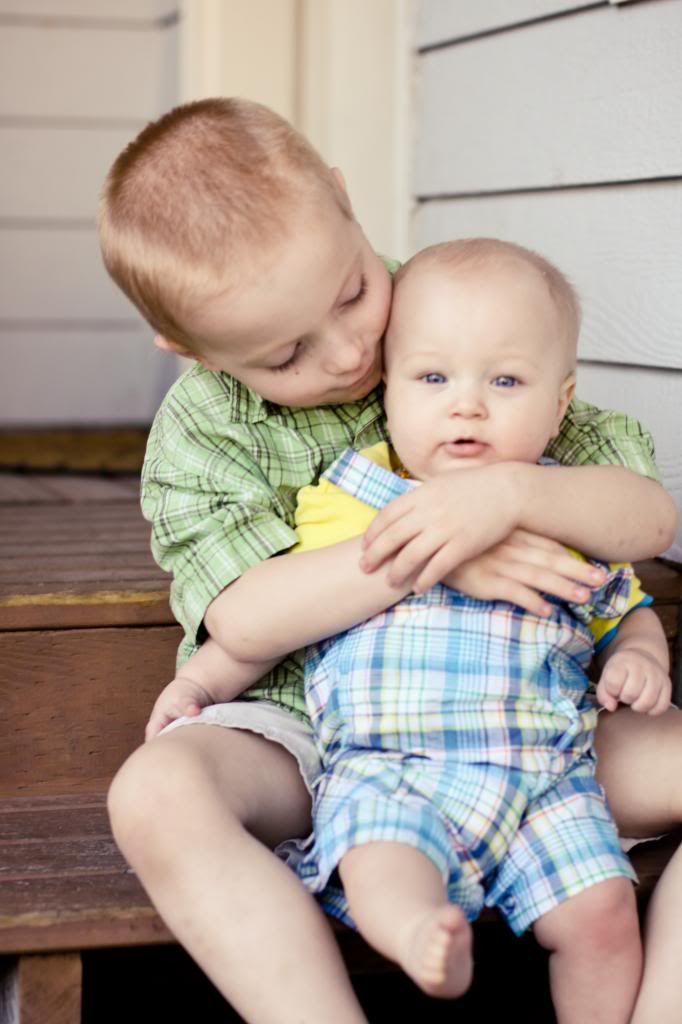 And last but not least, a family photo.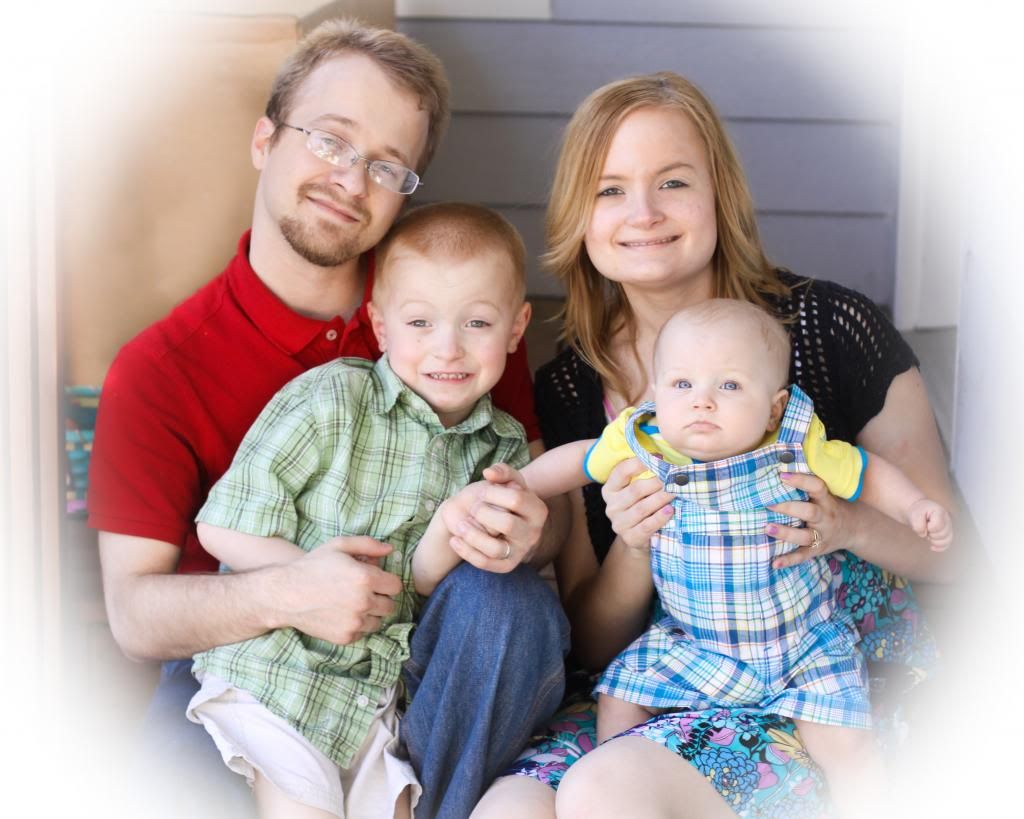 How was your Easter? What are your favorite traditions or treats?
I just realized I haven't gotten any mini Cadbury eggs yet!
I just might need to run to the store.
They are my favorite and my year just isn't the same without them!!
Peeps though? You can keep your Peeps! I'm way good!
P.s. Have you ever tried to type a blog post with an energetic bouncing bundle on baby on your lap?? Jeepers it is a challenge! Ha! Life is much more interesting now to say the least with two busy boys!