When baby legwarmers first came in on the scene, I thought they were just weird. They've kindof grown on me now though, and inspired from a few different tutorials (
here
and
here
and
here
), I decided to try to make my own.
What you'll need:
Medium-length knee socks (just make sure that the length from the heel to the top isn't too long because that part serves as the "leg" for these)- I love Target's selection. You can always find awesome socks in the men & women's section for under $4.00 a pair. These were $2.50 (score!)
Fabric-tac (I had planned on using my sewing machine, but couldn't find the power cord! Go figure! I had some permanent fabric bonding glue and it substituted beautifully! You can sew these if you would like though)
Fabric scissors (I tried using regular ones til I found my fabric ones. Believe me on wanting fabric ones! Unless you just like the magical feeling in cutting as fast as a slug crawls! It's thrilling, I tell you!)
To Do:
Cut off the toes, as close to the toe as possible
Cut from the bottom of the open toe part to the middle of the heel
along the natural crease of both socks.
The easiest way to do this is to put your hand inside the sock to stretch out the material. It makes it way easier to cut it.
Next you're going to turn one sock inside out.
Put the other sock inside the inside-out one, lining up the cut portions at the end of the socks.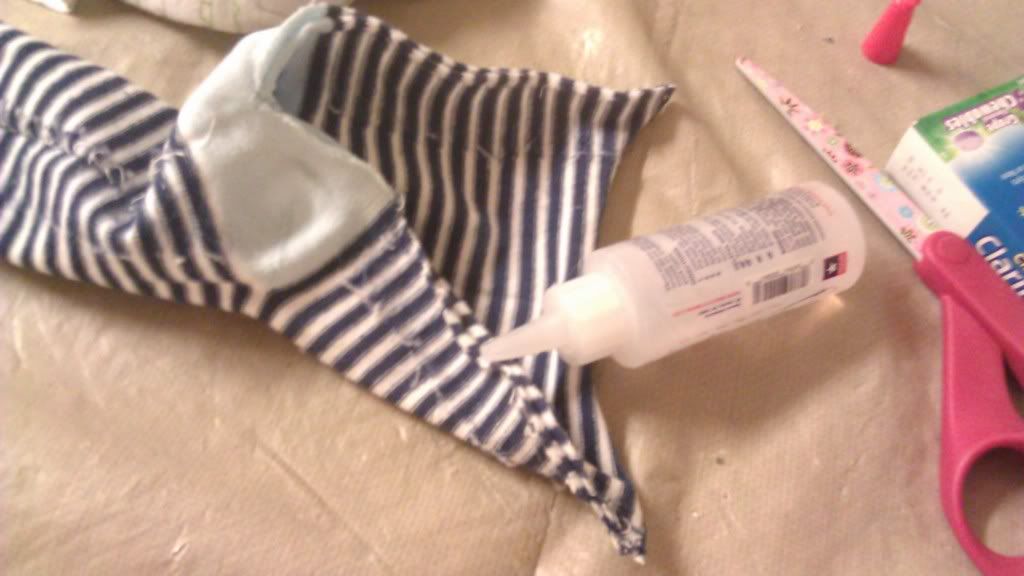 It should look something like this.
Use fabric-tac to adhere the socks to each other.
I found it was easier to start at the heel and get that matched up so the patterns aligned and I didn't have much extra/misaligned fabric at the end of the sock.
You can use elastic for this part if you'd like but I just folded it over and used fabric tac on it. It stays put pretty well sans elastic since the diaper-clad bum & chunky tummy keep it there. If you have a skinnier baby or would just like the extra snug fit, feel free to add elastic and tuck & glue the edge over it. I would use a thin elastic though because there isn't much space for it to fit over your baby's bum (depending on the size of the sock foot. If you used a men's sock with a bigger foot if might be fine to use bigger elastic.)
If you like to try to make things even and are working with a small pattern, like this one, you'll want to pay close attention to how you glue it over so it's even. If your baby is wearing it under a onesie though this part won't matter :)
Now enjoy your finished product!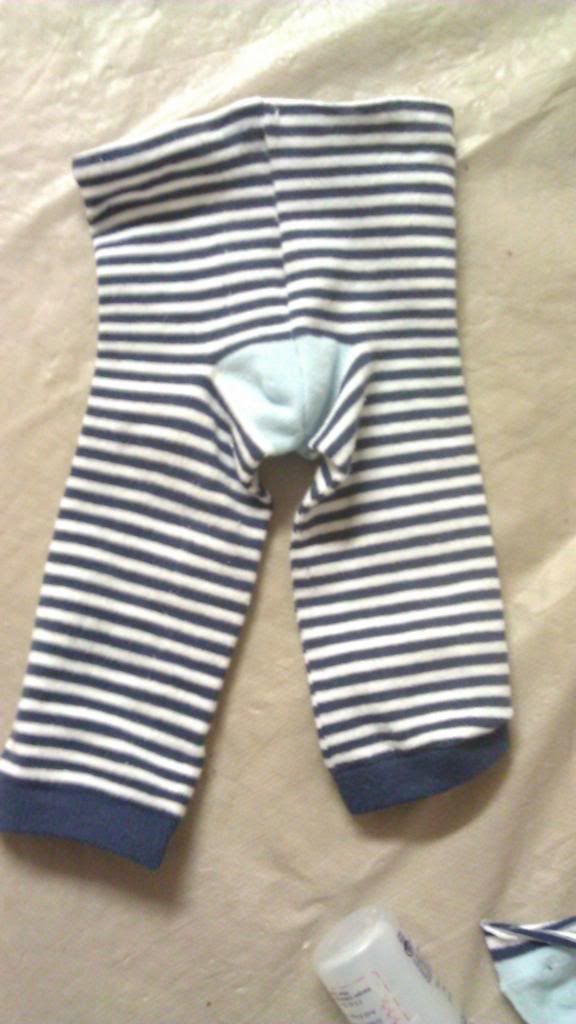 Is that cute or is that cute?!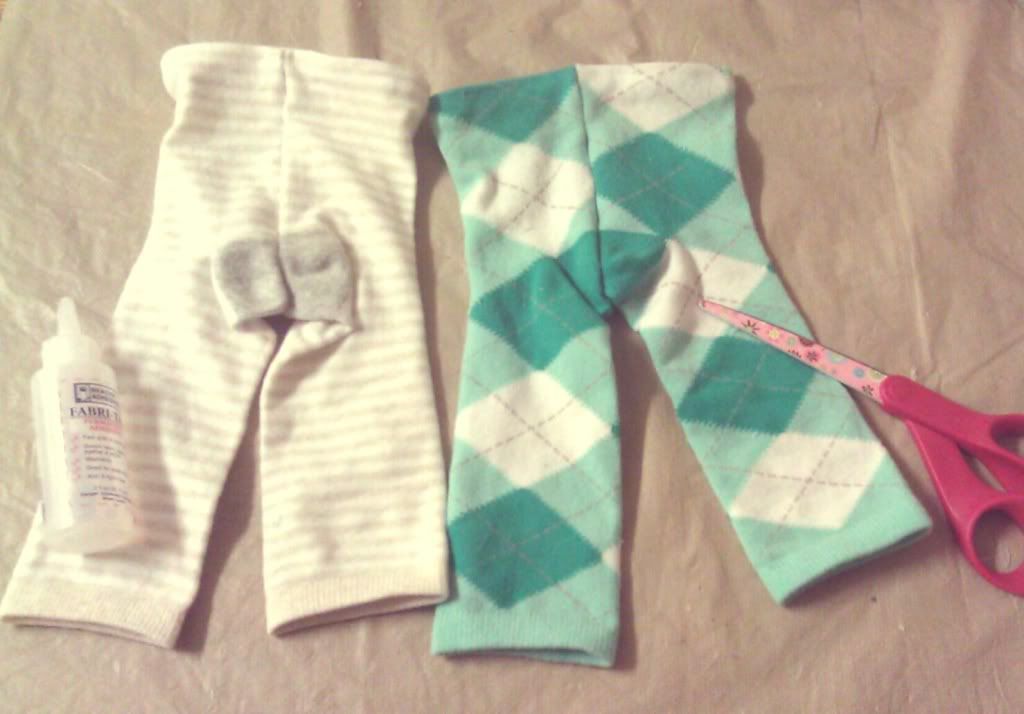 Just an end note: when using glue, it can be a little tricky to get it to line up evenly.
Make sure when pressing the fabric together to press your fingers in the same spot
to keep the seams as even as possible. Because fabric-tac dries pretty quickly,
flip your leggings inside out and adjust the seams before dried, pulling apart or squeezing closer
together to even it out a little more. Also to catch any places the fabric tac may have snagged.
If you have a sewing machine, this would help the seams greatly,
but if you prefer no-sew, this tip can be your friend :)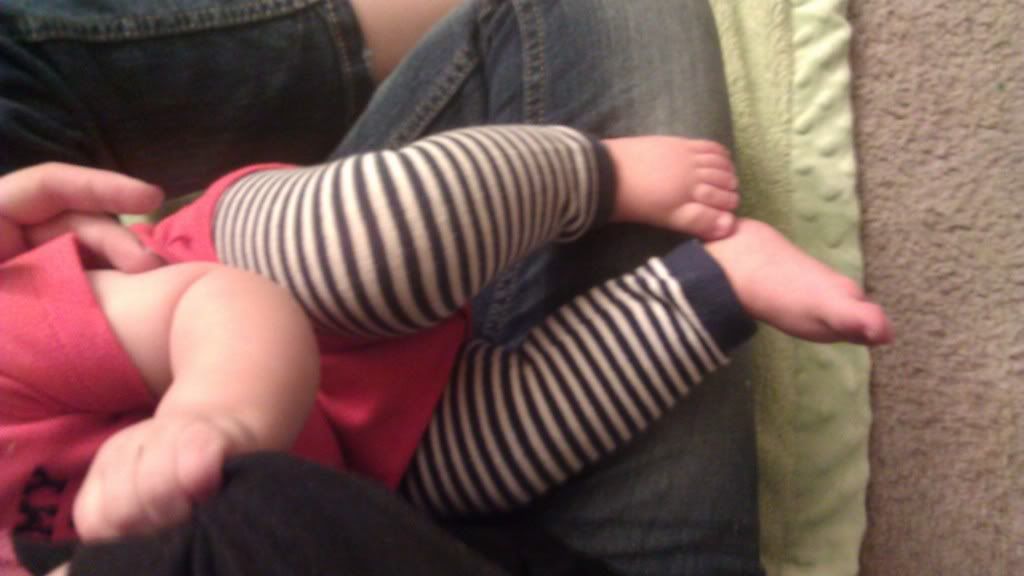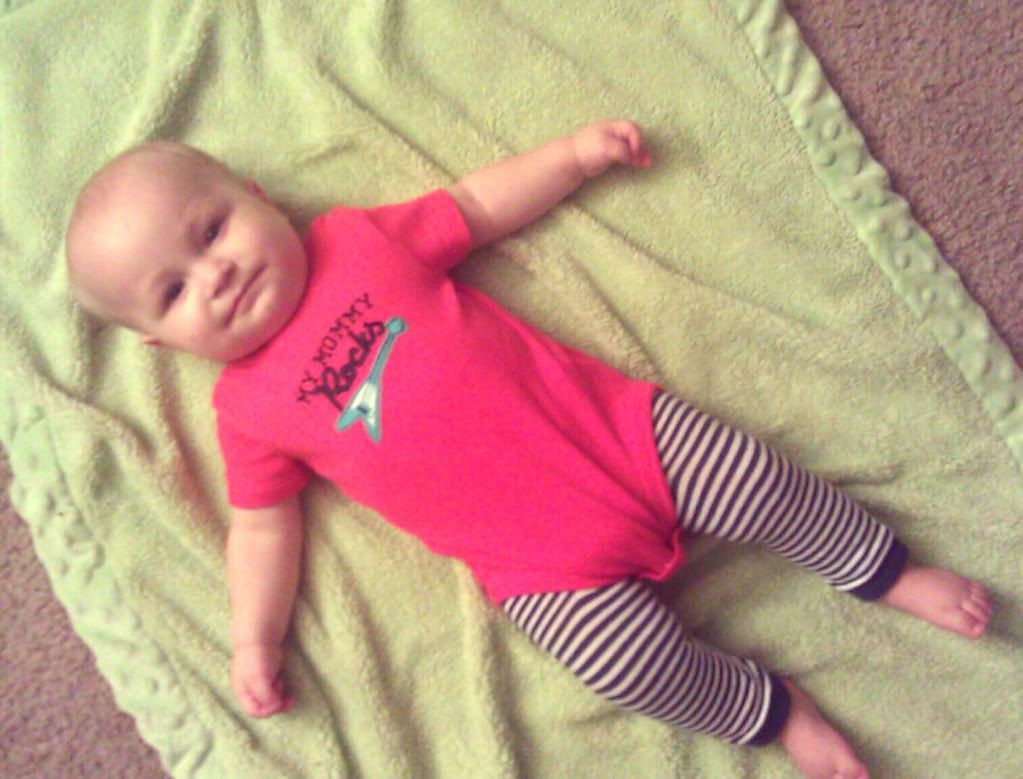 And now for the nicer pictures since my camera battery was dead last night and I just
could not wait to make these, hence the lovely phone pics :)
future quarterback look. Check it.
I mean really now....
Tags: Baby legs, diy baby leggings, diy baby legs, no sew baby legs, no sew baby leggings, diy crafts under $5